PLATE COMPACTOR
MVC-T90H VAS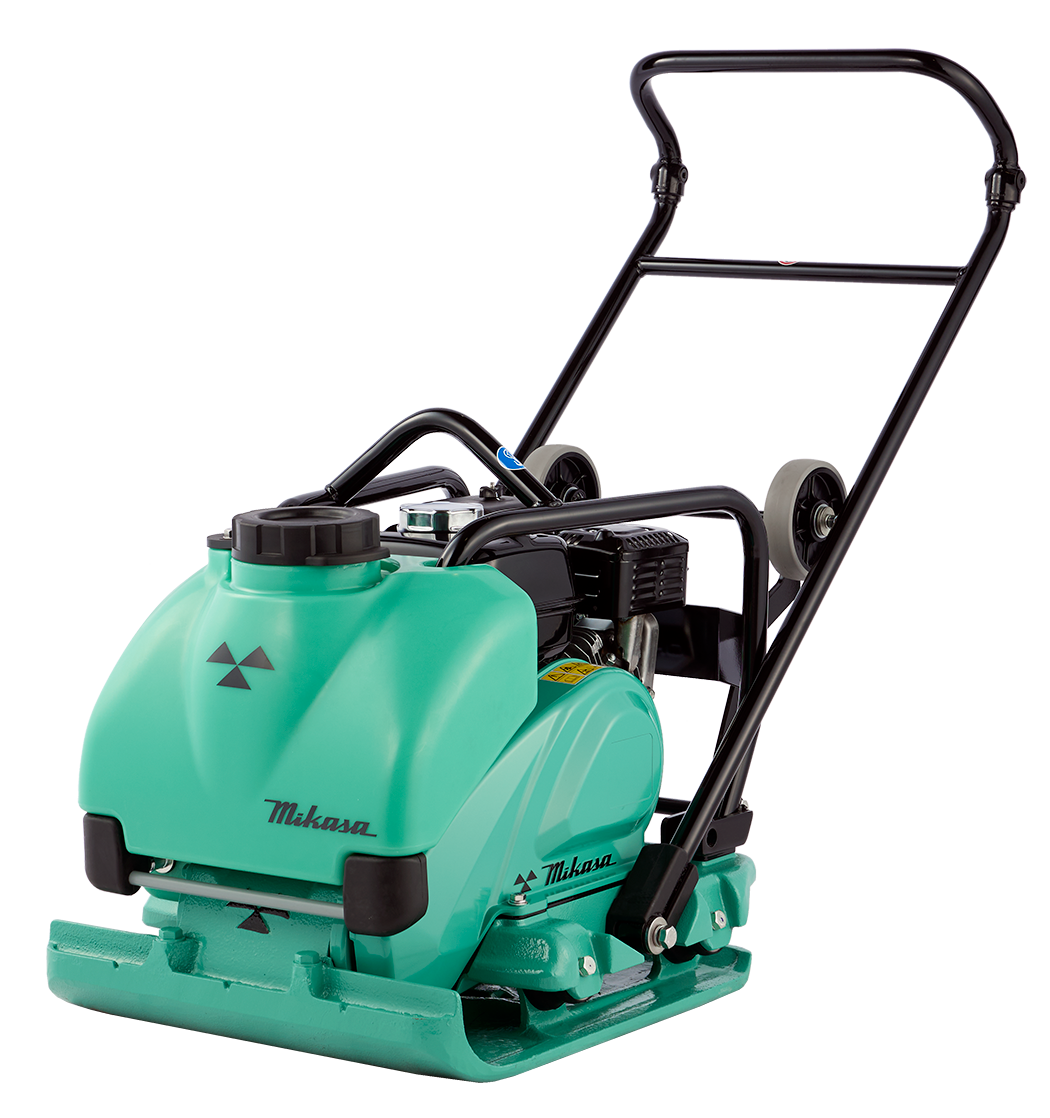 Heavy Duty line
MVC-T90H VAS
Plate Compactor with Special Ductile Compaction Base Plate
●Highly durable special ductile compaction base plate.
●Self lubricated vibrator system : patented.
●VAS handle to reduce hand-arm vibration.
●Water tank to shut out dust(13L).
●Cyclone air filter to extend engine life and reduce maintenance.
●Tacho hour meter for checking engine R.P.M. and operating time.
●Single-point lifting hooks for easy loading and unloading.
●Cart of revolving type.
●Rubber mat for interlocking block (option).
SPEC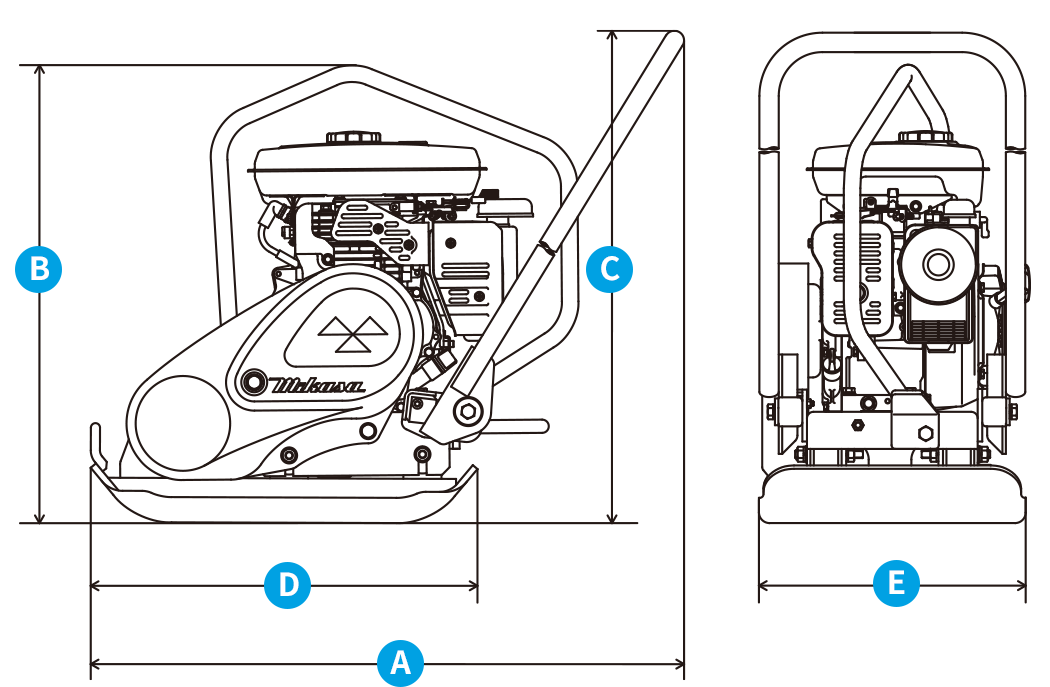 | | |
| --- | --- |
| special ductile compaction base plate | 〇 |
| rugged double compaction baseplate design | - |
| self lubricated vibrator system : Patented | 〇 |
| VAS handle | 〇 |
| folding handle | - |
| long handle | - |
| lifting hook | 〇 |
| water tank | 〇(13L) |
| rubber mat | 〇(option) |
| cart | 〇(revolving type) |
| Mikasa carry | 〇(option) |
dimensions
(mm)

A

1,050

B

560

C

950
plate size
(mm)

D

525

E

500
weight(kg)
108
vibrating frequency(Hz/v.p.m)
100(6,000)
centrifugal force(max)(kN/kgf)
15.0(1,530)
max.traveling speed(m/min)
25
max.limited gradeability(%/)
35
power source
model
GX160
brand
Honda
max.output
3.6kW/4.9PS
FEATURES 02

02

Astonishing Durability / Edge to Edge specialist

Special Ductile Compaction Base Plate

The base plate made by special ductile realizes significant high durability.
Design for Low center of gravity and Increasing the thickness of back part.
(MVC-40・50・T90・T100)

Rugged double compaction baseplate design

The back part of the compaction baseplate where wear is most prominent is a double baseplate design to deliver better durability when patching road surfaces or for other kinds of construction work.
(MVC-e60・F60・F70・F80)

Self lubricated vibrator system(Patented)

The vibrator which supplies oil in a vibrator case by using the rotation of an eccentric rotator gives a proper lubricating action to the bearings and makes the vibrator more durable.
(MVC-40・50・T90・T100)

Edge to Edge specialist

FEATURES 03

03

Standard Handle + 3 Unique Handles / Equipped for functionality

Folding Handle

When store or transport the compactor, Folding handle is useful, and it folds without any tools.
The notch type of grip bolt makes the handle lock into any position.

Long Handle

It supports high height operator for reduce stress.

VAS Handle

Vibration Absorbing System Handle to reduce hand-arm vibration.

Lifting Hook

The lifting hook is equipped as standard and makes loading and unloading the compactor easily.

Cart of Revolving type

Easy to move around. Standard and optional.
(MVC-e60・F60・F70・F80・T90・T100)

Knob to fix handle

Locked during transport and unlocked during compaction.
(e60・F60・F70・F80)

Stopper to fix cart

(e60・F60・F70・F80)

Wire to fix handle

(T90・T100)