WHAT'S NEW
Mikasa's Battery-Powered Rammer became an article in the Nikkan Kogyo Newspaper dated December 3, 2021.
Mikasa Sangyo Co., Ltd.
Series: 17 Goals that Change Japan
December 3, 2021 Morning Edition Article by The Nikkan Kogyo Newspaper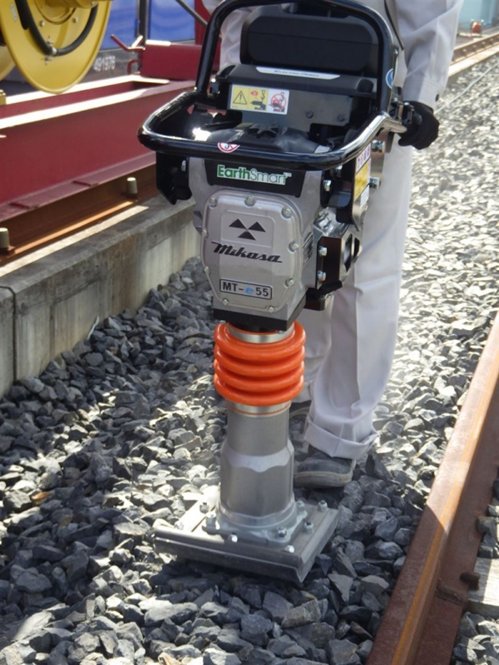 Mikasa Battery-Powered Rammer with no exhaust gas and improved workability

Battery-Powered Rammer to decarbonize construction
A light compaction construction machine that vibrates up and down in small steps at a construction site to level the ground is called a tamping rammer.
Mikasa Sangyo (Chiyoda-ku, Tokyo, President: Kyoya Hironari), the leading manufacturer of tamping rammers in Japan was the first to succeed in releasing a battery-powered rammer (Power Unit Series).
At present, most rammers vibrate with gasoline engines. Mikasa procures small engines from Honda to commercialize them, but at the same time, Mikasa has been thinking about electrification for the last five or six years. President Kyoya recalls, "I thought it could be used in sites where exhaust gas is not preferred."
However, development was not easy. In harsh sites exposed to rain and hot sun in addition to strong vibrations, battery safety was an issue to be solved. Honda repeated trial productions and finally developed a power unit with a battery. President Kyoya realized many benefits when he actually operated the machine. Battery-powered rammers can start and stop with a single switch, and are easier to operate than the engine-powered rammers. In addition, storage and maintenance are easy without a fuel tank with unused gasoline inside. Battery-powered rammers also enhance workers' convenience, leading to the Goal 8 (= Decent Work and Economic Growth) of 17 SDGs.
"Rental companies are interested in this product," said President Kyoya. Of course, consideration for the environment is also highly appreciated. Inquires come from Europe and the United States for reducing CO2 emissions during construction. "The wave of decarbonization is coming, and five years from now, the market may be shifting to battery-powered rammers ", he said.
In the mind of President Kyoya, there was an impressive episode 30 years ago. At an exhibition, a young Vietnamese man took out dollar bills from his pocket and bought a Mikasa rammer. He later became a distributor of Mikasa in Vietnam. After that, a construction rush occurred in Vietnam and his company grew into a leading conglomerate. Tamping rammers of Mikasa have contributed to the economic development of Vietnam.
It seems that Mikasa Battery-Powered Rammers, an indispensable device for decarbonization of construction work, will support the growth of rental companies and distributors in each country.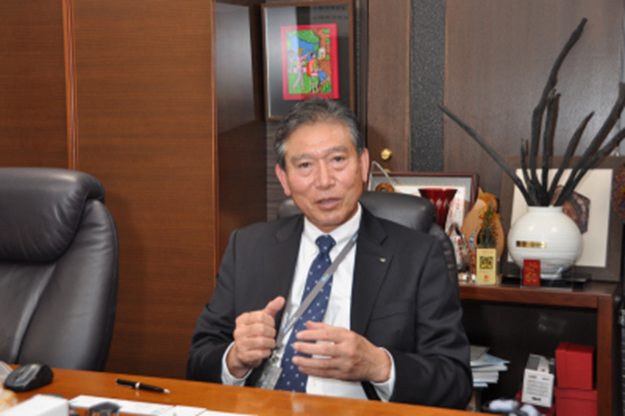 President Kyoya predicts a shift to Battery-Powered Rammer